Radon Mitigation Services in Ventura County
Ventura County has been identified by the Environmental Protection Agency as an area that has a higher potential for elevated indoor radon levels (greater than 4 pCi/L).
Click Here
for the California Public Department of Health California Radon Maps. Here is a direct link to the
Ventura Radon Potential Map
Radon Be Gone provides Radon Mitigation Services to all of Ventura County, including:


Camarillo
Fillmore
Moorpark
Ojai
Oxnard
Port Hueneme
Santa Paula
Simi Valley
Thousand Oaks
Ventura
Bell Canyon
Casa Conejo
Channel Islands Beach
El Rio
Lake Sherwood
Meiners Oaks
Mira Monte
Oak Park
Oak View
Piru
Santa Rosa Valley
Santa Susana
Saticoy
Bardsdale
Buckhorn
Casitas Springs
Dulah
Faria
La Conchita
Mussel Shoals
Newbury Park
Oak Park
Point Mugu
Sea Cliff
Somis
Upper Ojai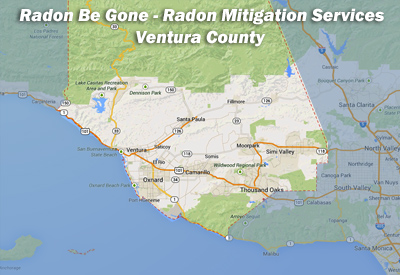 Radon Be Gone also provides Radon Mitigation Services for California houses and commercial businesses outside the areas specified above.